Official Sources
Important Websites
It's up to 11 websites now – 3 more made the list
We'll keep the list

 

current & relevant right through the crisis – bookmark & come back
Great Announcement
Details to follow Monday, March 30th – The wage subsidy is being increased to 75% for qualifying companies that have lost 30% or more of their revenues. (The wages the subsidy covers will be capped at $847 a week) ALSO, $40,000 loans that have interest-free periods will also be made available to qualifying small businesses. Read More Here
The province of British Columbia now has a dedicated phone service that provides non-medical information about COVID-19 in 110 languages. Service representatives can be reached seven days a week, from 7:30 a.m. to 8 p.m., by calling 1-888-COVID19 / 1-888-268-4319. New Official BC Gov COVID webpage – overall focus – some business
BC-CDC Official Site with regular COVID-19 updates BC Centre for Disease Control BC-CDC regarding Construction Sites
BC Specific Commercial Property has cut school taxes in half, 90-day Hydro payment deferrals are possible, ICBC monthly car insurance payments also have possible 90-day deferrals. Proposed $1,00o increase on top of  EI payments – the process will be defined later with payments by May. Companies with payrolls over $500,000 can defer their employer health tax payments until Sept. Families of 4 will get an increase of up to $564 in their Climate Action Tax Credit. Eligible individuals will receive up to $218 in an enhanced payment.
Worksafe bc – should your people be working?
Service Canada (EI & other employee programs) on COVID-19
Online COVID-19 EI Application  (A how-to apply guide is at the bottom of this page) Also, see a  Sample Layoff Letter
NOTE: the self-employed and business owners are also eligible for $2,000 per month Emergency Response Benefit. Look for the application channel to open in early April.
Record of Employment Guide (ROE) 
Keep your workers with work-sharing programs OR retain them and get a 75% wage subsidy 
Business Contracts – are you still obligated?
Canadian Federation Of Independent Business (CFIB) Great Resources on COVID-19 
Business Development Bank Of Canada (BDC) Support for COVID-19 impacted companies
Webinar – Business Development Bank of Canada – Economic Update Mar 24th
Canadian Government Economic Response to COVID-19 Crisis
Canadian Government -Resources for Businesses
Prime Minister's Detailed Statement about Support for Workers & Businesses & Self Employed
Important
Also, don't forget to

contact

your banks – they have their own programs for you and your employees. These are mostly on a case by case basis.
Useful recommendation
Use your left hand on door handles, carts, bathrooms, etc. to protect your right hand from germs. The majority of face contact is made with the right hand. Do the opposite if you're left-handed!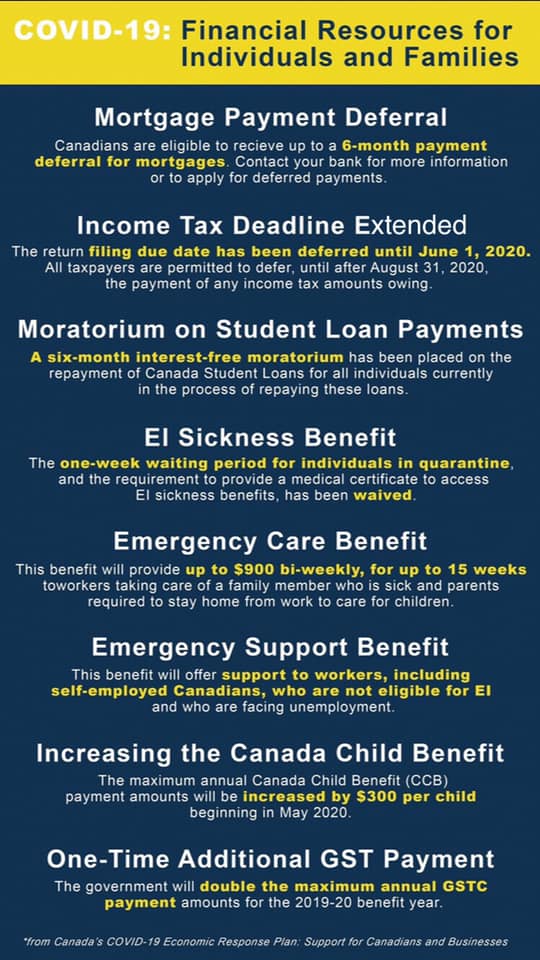 John Cameron
ROCK SOLID Coaching & Consulting
john@rock-solid-business-coach.com      (604) 888-3471
Helping Businesses Keep their Workers
To support businesses that are facing revenue losses and to help prevent lay-offs, the government is proposing to provide eligible small employers a temporary wage subsidy  More details from the government to follow 
Signing up for EI
This system will walk you through the process of signing up for EI
Both self-employed and employees can fill this out.
Step 1. Getting started
NOTE: if this is for a small business that is closing temporarily it is efficient to complete the form with all employees present in a group setting. Sample Layoff Letter
What you'll need in order to fill out the EI form:
Access to the internet
A laptop, computer or mobile device
Direct deposit banking information
SIN number (social insurance number)
Employer's address and contact information
The start date of your current employment
T4 from your current employer
Highest paid cheque from your current employer (they want to know how much you get paid to calculate how much you'd be able to claim)
Previous employer's address and contact information (if you worked there in the past 52 weeks)
ROE (record of employment, this can be issued by your employer or employer's accountant/bookkeeper) Usually the employer submits it to the CRA
Step 2. Go to the following website
This website will take you to the EI application form:
https://www.canada.ca/en/services/benefits/ei/ei-sickness/apply.html
Follow the instructions and submit answers that best fit your situation.
NOTE: The following questions:
 When picking basic claim vs. spouse claim (Spouse meaning you are married or have a common-law partner who is dependent on your income)
**when asked "did someone help you complete this form" at the end, select "no"**