Management Training Program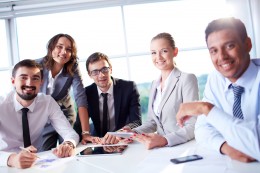 Effective management training is important. Companies that develop strong management teams accelerate into the future while companies that don't often see their development stall.
Most companies don't need to hire managers from outside. The best approach is training your existing people how to be effective managers. This statement is backed up by extensive research.
This program includes our innovative Company Accountability Matrix that builds accountability and responsibility into organizations. It's proven to be very effective. Strategic accountability beats discipline every time. This training program delivers a step by step approach that works!
It also introduces a very effective system for systemizing companies which is particularly useful for cross-training existing employees and training new hires. This is a solid approach for improving quality and consistency.
The training also uses the highly regarded Gallup Q12 Workplace Strength Assessment. It is the standard for developing good employee engagement.
This is  Directly Applied Relevant Training. (DART) Trainees will work on 10 projects that directly involve their day-to-day responsibilities. This is a 'hands-on' approach.  There are 15 one-to-one coaching sessions plus phone and email support in-between sessions.
On-site Management Training Programs are available in Greater Vancouver, Surrey, Langley and Fraser Valley. Pricing is below.
The  Training Modules
Company Accountability Matrix (CA³M)
The CA³M is a suite of projects at the core of this training program. It delivers a proven roadmap for organizing and systemizing business activities. Implementing it leads to smooth operations and increased capacity.
There are a surprising amount of 'moving parts' in any company and the CA³M delivers a proven methodology for monitoring and improving them. It also provides a system for systemizing. The CA³M and the participant's systems will be graded for both level of completion and overall quality.
Implementing the CA³M also involves a step-by-step process for effectively delegating accountability and responsibility down to the most appropriate levels. Building a strong, engaged team is a project that delivers valuable returns.
The learning outcomes are the ability to build and implement a Company Accountability Matrix and then to use it effectively to coordinate business activities. Participants are also expected to generate documented systems where appropriate. A demonstrated ability to use the CA³M to effectively delegate accountability and responsibility within their span of control is another key learning outcome. Using the CA³M to construct an ongoing plan for continued operational efficiency is the closing project in this module.
Job Descriptions
Well written Job Descriptions effectively set expectations for both the company and its employees. They need to be revised as the employee and the position evolves. Templates and examples will be provided. Participants will be evaluated on writing their own Job Description and at least two others.
The learning outcome is the ability to compose Job Descriptions by thinking ahead, visualizing great performance and then articulating it in a standard format.
Performance Planning & Reviews
For managers, employee performance reviews are both essential and challenging. Done right they are a perfect vehicle for uncovering employee concerns, addressing performance issues, giving feedback, and updating job descriptions. This training revolves around a proven process. The forms and templates will be provided. Participants will be expected to undergo a review of their own performance delivered by the trainer, give a minimum of one review with the trainer present and a minimum of one review done solo.
The learning outcome is being trained in and comfortable with delivering performance reviews following an established process.
Employee Engagement
The Gallup Q12 Assessment measures employee engagement and it's an essential key for building a strong team. This is an easy-to-implement tool that is statistically valid. It was developed by the Gallup survey company after years of research. Training participants will be required to distribute the survey, collect the responses and evaluate the results.
It's true that when viewed from another perspective the Q12 reveals a management assessment with straightforward recommendations for managers seeking to improve engagement. The second project for this module is to build a plan to improve engagement going forward.
The Gallup Q12 is not our intellectual property. But because of the statistical validity of the supporting research, we simply can't ignore it. Higher scores statistically indicate happier employees and higher profits.
The learning outcome is being trained in and confident with Gallup's Workplace Strength Assessment. Delivering a survey, developing a plan, and working a plan to improve employee engagement are all part of the training.
Summary & Pricing
Management Training Program
This program is designed for individual delivery – one trainer to one person. The price is $9,950.00 for the first person or $7,950.00 per person when one or more people enroll for the same location and company.
The Management Training Program is centered around 10 training sessions over a 12 week period. There are real-world assignments between the training sessions. This is Directly Applied Relevant Training. (DART) As the program unfolds the managers gain experience and get real-time feedback by working on projects that put the concepts directly into action in their organization.
After the initial 90 day program, there are 5 additional sessions to ensure implementation. These are spaced over the next 5 months to ensure the desired business results are being achieved.
The overall learning outcome is for the training participants is to become managers who are confidently in control of their departments while delivering excellent results.
Participants will be evaluated by an exam at the end of the training plus a series of 10 projects will be graded as the training unfolds. The exam is worth 40% and the projects are worth 60%.
info@rock-solid-business-coach.com
 Or visit our Contact Page by clicking on this link