20/20 Business
Recovery Strategy
__________________________________________________________________
BC Small & Medium Business
Recovery Grant
__________________________________________________________________
RENT RELIEF (and fixed costs)
The new rent relief program has arrived click here
The new Canada Recovery Benefit – replaces the CERB
Plus Important CEWS News
Ottawa will extend its wage-subsidy program to businesses through to December 19 but those that currently qualify for the 75% subsidy will eventually see their subsidies decline as a result of pending updates.
Instead, businesses that have experienced any decline in revenue regardless of how small will qualify for the program.
The Throne Speech indicates this would extend into 2021. It also indicated there would be new direct assistance for businesses that were.are shut down by COVID-19 related health orders. More on this as details become known.
The government will also offer what the finance minister described as a "top-up" to businesses that can show their revenue has fallen 50% in the wake of the pandemic.
LINKS
Scroll Down for links to other
Current Government Programs
updated links coming soon
Official Gov New Release on the program redesign
Official Government of Canada Application Link
20/20 – the year with a split personality
The economy crashed in the first half and is set to recover in the second half. On top of that next year, 2021 will be much different than 2019 was. Change is happening and there is a new normal on the horizon.
This is the article to read for clear 20/20 vision of the road ahead.
The companies that did well through the downturn are not the same ones who are going to do well during the recovery. There are interesting opportunities ahead for companies as the economy gets rebooted. Making the right moves now will position you well for the next cycle of economic growth.
This article gets updated regularly as the twists and turns of the COVID-19 crisis continue to evolve.
First, about the author:
John Cameron is British Columbia's most experienced business coach. In the early 1990s, John owned and managed a small business through the recession. It was a seasonal contracting business (read recession every year without fail) that was recognized as the 4th fasted growing company in Canada.
Later, as a business consultant & coach, he helped several dozen entrepreneurs successfully navigate their companies through the 2001/02 recession and the 2008/09 financial crisis. He's been on the front lines before!
Some Background
Recent Patterns during Recessions
Lessons From the Past
Comparing 2020 and the COVID Crisis to the last two recessions – in 2008 the financial markets collapsed because the financial markets themselves were broken. They were polluted with worthless subprime mortgage securities. This recession started on Wall Street and the impact made its way to the people on 'Main Street.'
In 2001/02 there were 3 factors. The dotcom bubble burst and the Nasdaq stock market collapsed which affected other stock markets. In Canada, Nortel Networks' share price fell from $124.50 to $0.67. By the end of 2002 US stocks had lost $5 trillion USD in value. Accounting scandals also plagued the times featuring companies like Enron, Waste Management, and Worldcom. To top it off the 911 Attacks virtually stopped the North American economy in its tracks for days. Add it all together and GDP dropped by 2.9% in 2008 which doesn't sound like much, but it is known as the great recession.
20/20 Vision – The Road Ahead
What's different this time is it appears the structure and engine of the economy were in decent shape. The pandemic crisis led to an accelerated decline in the economy. That's what generated the problem. Don't get me wrong this regime of social distancing has to happen.
While the length of the 911 economic stoppage in days. The COVID-19 stoppage will be measured in weeks. Stoppage may be a strong word, but for a huge part of the small business sector that is exactly what it is. A more accurate term is 'Government Engineered Slowdown' of the economy in response to COVID-19.
Reopening plans have a clear focus on controlling a potential second wave of the virus and this is having an impact on the recovery.
Interest rates are expected to stay this low for at least a year and perhaps up to two years. The Bank of Canada may make micro-cuts to the current .25 percent rate. This will serve more as a signal.
What it Means
to Small Business in BC
The growth in the number of new cases has tapered off. To be clear, when the curve flattens the spread of the virus is actually still circulating. Next, the number of new cases must decline substantially — to the point where the virus can be effectively contained. In late May we appear to be there
The Reopening Starts
A framework has been developed for the phased re-opening of the BC economy on an industry by industry basis. See the screenshot below.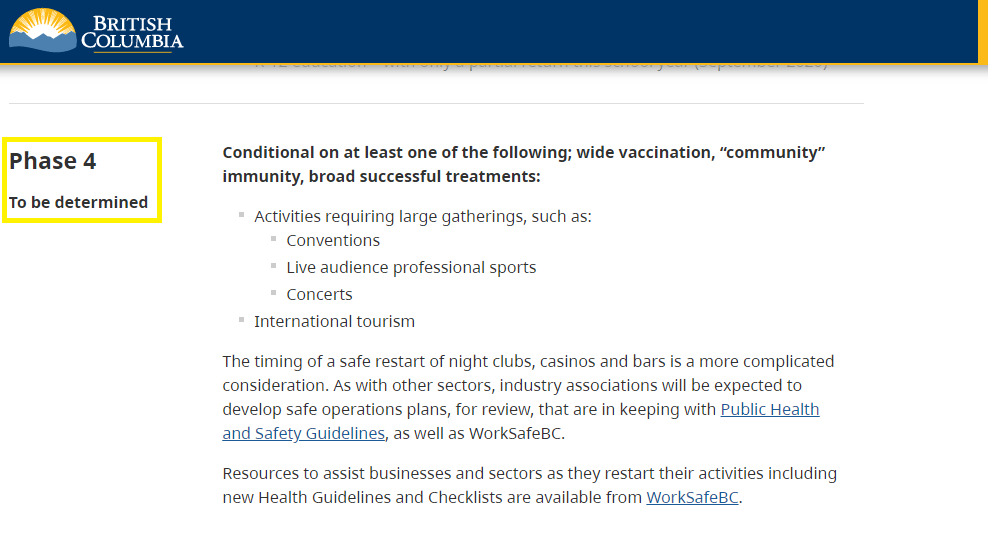 It's Still About the Virus
The trending of daily new cases of COVID-19 is the leading indicator to watch. Dr. Bonnie Henry wants to see a definite trend of no new cases prior to moving into Phase 4. The focus is on preventing a serious second wave.
A vaccine could take 18 months. Until then it's: identify, isolate and treat.
20/20 the Year With a Split Personality
This is the time to start thinking about the recovery. That's where the opportunities are. It's been said that "The way the economy goes into a downturn is the way it will come out." Subject to
The 20/20 downturn happened fast and it seems likely that a robust recovery will start fairly soon after the virus reaches the containment phase. The economy wasn't broken going into this and market forces didn't cause the downturn.
This doesn't mitigate the fatal damage caused to a large number of businesses by the shutdown. It should be noted that it was by no fault of their own in a high percentage of those cases.
You may have started 20/20 with a strategy, and then adopted a new strategy for the downturn, but now you'll need another strategy for the recovery and yet another for 2021. Business owners' skills and abilities are being tested — for real. A few got dealt an easy hand while most others have some difficult adjustment to make.
In April governments started rolling out crisis recovery programs (see below) and in the third quarter, as time moves along some further measures will be taken to stimulate the recovery of our economy.
Combined this should lift the economy up from the lows of March & April.
The recovery will create some business opportunities for companies that happen to be in the right place at the right time and others who innovate.
20/20 Fourth Quarter Reality
Consumers will have some money, but spending habits have changed. Store traffic is down significantly. In-home services are being curtailed. Even internet search marketing patterns have shifted.
Simply put, what worked in February, before all this started, doesn't work anymore. But it will begin to shift back by the third quarter of 20/20 — when the virus is hopefully being contained — the economy should recover. The 4th quarter would be the earliest we could see anything resembling the full new normal recovery.
The central bank now expects GDP to decline between 10 and 20 percent compared with the fourth quarter of 2019, down from the 15 to 30 percent decline forecasted in April.
The central bank said it still expects the economy to resume growth in the third quarter. Meaning the recession is over – growth ends a recession even if the economy us still smaller that when it started.
"Decisive and targeted fiscal actions, combined with lower interest rates, are buffering the impact of the shutdown on disposable income and helping to lay the foundation for economic recovery," the statement said.
The Role of Government
The hundreds of billions of dollars that all levels of government in Canada and the central bank are pushing into the economy are designed to create the conditions for a relatively smooth recovery. (Not to mention the now astonishing low-interest rates)
Government engineered on the way down and government engineered on the way back up. It's the 20/20 split personality again. Necessary COVID-19 related regulations restricting the economy followed by funding programs to stimulate the economy.
There's Winners & Losers
Small business people need
to make their own luck
In the short term, there are necessary actions small business owners need to take to ensure their companies can survive and boot up when the economy does. Be ready to compete and win. It could set the stage for a solid run of profitability.
Finances are critical.
Cut everything you can do without especially for the short term, (travel & meals are obvious)
Go through your expenses line by line — this should be on the top of your todo list.
If you are at risk burning through all your cash — you have to be ruthless about this. You will need access to cash resources to reboot your company along with the economy.
ask your landlord for a break on the rent — the property tax due date in BC is extended to Oct 1st, 2020, there are also new property tax breaks that are expected to achieve an average of

25% reduction

in the total property tax bill, (a 700 Million Dollar tax break for commercial landlords) this is a good video to watch before you approach your landlord,
These & other deferrals are available for businesses and individuals as well. Use them to reduce your own take-home pay needs.
check all the autopays on your credit cards (business & personal) — call and negotiate with them,
ask your suppliers if extended terms are possible for new orders,
and discuss extending the terms on existing payables (bright idea — use their credit if you can),
take advantage of new financing options, Info on gov financing programs
both a 10% Wage Subsidy and the 75% are available options,

Wage Subsidy

extended THROUGH December The Details are Here Applications are Here Short overview: the qualification rules for March (not April, May & June) have been loosened to a 15% reduction in revenue and comparison to an average of Jan 2020 and Feb 2020 revenues are now allowed, (previously it was a comparison to 2019 month over month with a 30% reduction)
layoff staff if you can't afford your share (90% or 25%) – EI is now more generous than ever,
Sample Layoff Letter and a how-to guide for applying for EI online.
Perhaps look into Canadian Emergency Work Sharing
if you're a contract worker or self-employed — apply for the CERB.

talk to your bank

about deferring existing loan payments and perhaps even extending your line of credit,

ask your banker

about resources from the government, $40,000 low-interest CEBA lines of credit are available – $10,000 is forgivable – some conditions apply. The rules around

minimum qualifications

changed on May 19th. Just Google your bank's name together with Canadian Emergency Bank Account and you should find the application process within a few days.
Export Development Canada is offering exporters a guarantee on loans of up to $5M,
the Business Development Bank of Canada now has Crisis Loan Programs available
Every expense line is critical, go through them all one by one. Ask your bookkeeper to open the accounts and drill down to see the individual transactions — you might be surprised where your money has been going.
If you find calling suppliers and asking for deferrals is difficult then have someone else make the calls — like your bookkeeper. It can be easier for someone who is not as emotionally connected.
The BC Government has created a one-stop service for COVID-19 related business resources and questions. It's being delivered by Small Business BC covid.smallbusinessbc.ca/ Please remember that you can also call us at (604) 888-3471 or email john@rocksolidresults.ca We've got real-world experience on the front-lines of recessions.
Next, be creative about the type of business you do. As the economy changes opportunities arise and new revenues are possible. A finishing carpenter is making frames with plexiglass screens for workers who need to interact with the public. Training companies are moving online as fast as they can.
Zoom Out
Expand Your Field of Vision
People are being told to stay at home. How can you help them make productive use of their time there? Old projects are getting new attention. My local printer is offering to digitize photos as bored people sort through them. Soon homeowners will be putting more focus on their yards. I think there will be some demand for residential exterior products & services.
Talk to your contacts and your team and get their thoughts about reducing expenses and their ideas about new revenue streams. Getting input and acting on the good ideas is a sign of strong leadership.
Think Creatively
Basically, there are ways to put your company's equipment, people, and abilities to work in new & innovative applications. Especially considering the 75% wage subsidy the government is offering.
Since the second half of April many companies have been getting back to work on a limited basis. What are your options here?
It's a good idea to do a 6-month cashflow forecast. If you are going to come up short talk to your banker.
Whether the goal is to slow the losses or earn a few extra dollars the objective is to have cash ready when the reboot arrives. Not everyone will be able to do this. Several of your competitors are likely to disappear. Your company can actually be stronger than ever at this time next year.
If the First Half of 20/20
was just a Slowdown for you
instead of a Complete Shutdown
Now would still be a good time to go through your expenses line by line. It's also a good time to prepare a cashflow forecast for the entire year. Cash is king in these times.
Use the 75% wage subsidy to retain employees and improve your Standard Operating Procedures. The key here is your customers won't pay for YOUR inefficiency for very long and in times like this, their patience is even thinner.
You can view that last sentence either way — as an opportunity or a threat — but when the economy comes back efficiency and effectiveness will be golden.
The Winners & Losers in the Downturn
aren't likely to be the same in the Recovery!
There are companies running with skeleton crews because of the crisis and a fair amount of them are realizing they didn't need all those overheads. Your competitors could come back leaner and meaner. OR maybe that's you!
Track down customers you want to start doing business with later this year. Hint: nowadays they probably have more time to take your calls. This could also be a good time to prepare to introduce new lines of business into your company. Train your employees and get the administration systems set up. Work the bugs out now and get ready for a fast launch when the economy bounces back.
Ask your suppliers if they will be offering extended terms when the recovery unfolds.
Consider innovative tax strategies with your accountant.
Marketing is another key. Are you prepared to go after the business you want to get? This is another area where the 75% employee subsidy can be deployed for future results. Subsidized employees can make it more affordable to get your marketing ready for new lines of business.
Getting Ready to ReStart
A study by Tony Hiller examined the marketing and financial data of 1,000 firms in Europe and USA during recessions. Hiller divided the firms into three categories.
Companies that decreased their marketing & advertising spend would go on to lose 0.8% of the market share,

those that maintained marketing and advertising added a 0.6% to their market share and

the companies that actually increased marketing & advertising increased their market share by 4.3%
Is this your time for your company to do the groundwork and prepare for future growth? For a lot of companies, it is. During the recovery, new opportunities coming at a swift pace and many competitors won't be able to respond fast enough.
8 Months Ago Who Predicted This?
The business landscape will change. Between 8% and 38% of BC businesses will likely not be able to reopen. Read about the recent survey by the Mustel Group here. There will be orphaned customers in the market.
Luck is where hard work meets preparation — make your own luck.
Summary
Rough & Tumble Times
I expect there will be a bit of a wild west atmosphere as this unfolds. Even before the upswing begins there will be winners and losers. In the first quarter of 20/20, only about 5% of the total population of small businesses are winners. The vast majority of businesses will continue taking heavy losses into the second quarter.
We should start to see the percentage of winners rise near the end of the third quarter and the losses ease for others. Although the winners on the way back up are likely to be different companies from the original winners on the way down. The summer and fall will be interesting times. Be ready to compete.
In the fourth quarter, more companies will record wins. The majority will be getting 'steady on their legs' again. The fourth quarter will set the foundations for the long-term wins in almost every industry. There will be a new cycle or economic growth. How will you be positioned to take advantage of it?
Think of the 20/20 hindsight view from the year 2021. What moves did you make?
Parting comments go to Jim Pattison: "I can assure everyone that we are going to be okay. It is just a matter of how long it will take … Yes, there will be serious business damage that will need to be dealt with. But long-term we'll be just fine."
There are some caveats:
It all depends on the management & containment of the Coronavirus.
The USA path to containment has to follow roughly the same timelines as Canada.
Please Note: This information is for educational purposes only. It is impossible to include all situations, circumstances and exceptions in an article such as this. No individual or organization involved in either the preparation or distribution of this article accepts any contractual, tortious, or any other form of liability for its contents.