Speaking Engagements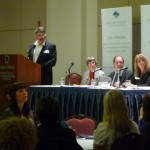 John Cameron is an accomplished speaker who has delivered many presentations to industry associations, business groups and to conferences.
His two most popular presentations are listed below.
Expectation Management
All organizations are 'Hubs of Expectations' and the more smoothly they flow the more value the organization delivers to all of its stakeholders. When expectations compete the potential for conflict increases. This presentation will deliver an innovative new way of improving the effectiveness and emotional health of organizations.
The theory of Expectation Management was developed in the trenches of small business as John Cameron worked with hundreds of companies to achieve their goals. You'll walk away from the presentation thinking, that was obvious, but you'll also realize that you haven't heard it before.
Presentation Objectives
An effective new approach for improving organizational performance.
A new approach for identifying conflicts before they happen.
Pricing is by quotation.
How to Strengthen Your Company
This presentation introduces some paradigm shifts that make it easier for business-people to achieve the results they really want. It's a down to earth brand of wisdom that's baked into a proven strategy for success in business.
The presentation starts with the observation that people don't own businesses, what they actually own are companies that do business with markets. If customers can give you their business and take their business elsewhere, how can you own it?
Presentation Objectives
Deliver a new understanding of what really causes long-term success in business.
Identify the five key problems that business-people need to solve and solve well.
It will also introduce some interesting new solutions.
If there are any other presentation topics that you would like John Cameron to speak to or business coaching services that weren't on this list that you believe we could deliver then please let us know.