At Rock Solid we have a proven track record of working with entrepreneurs, like you,  to help them achieve excellent business results. Our world-class programs and experienced business coaches will deliver the roadmap you're looking for. Check out our  Testimonials Page to read about our real-world examples.
Your business can compete and win with BC's most experienced business coach on your team.
Since 2001 we've been working with small & medium-sized businesses to increase bottom-line profits, develop responsible teams, grow sales, improve operations and solve countless problems.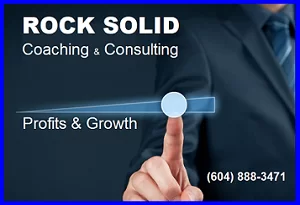 Proven experience
that you can count on!
It Doesn't Cost Anything to Take a Look
Our no-obligation Discovery Session delivers good value.  At the very least you'll get to bounce a few questions off of John Cameron – BC's most experienced business coach.
Start the Discovery Session by discussing your current, problems, issues & challenges, and then — more importantly — describe the future you'd like to see for your company.
You can expect John to share valuable insights and expertise from his 35 years of business experience. His down-to-earth brand of business wisdom cuts through the noise and delivers practical strategies — that work! 
(NOTE: if our services aren't a good fit for your business he isn't afraid to point you towards other solutions.)
 The focus is clearly on your company. It takes approximately 45 minutes

Better Results — Faster
We've been down similar roads hundreds of times before and we've formatted the best solutions into proven programs. We don't start from scratch every time. We've learned from experience and incorporated it into our approach.
Our company's goal and our company name are the same. ROCK SOLID Coaching & Consulting. We've been working on delivering high-quality services since 2001.
The Work
Since 2001 Rock Solid has been using Directly Applied Relevant Training (DART™). This is our proprietary process for ensuring the work you do delivers the results you want.

The other interesting aspect of our business coaching services is the dual focus on getting business results plus developing your ability — and/or your staff's ability — to consistently produce solid results going forward.
Our world-class business coaching services address your existing problems, issues, and challenges and then get on with the more important task of transforming the business into a strong profitable company.
Put another way — it's the difference between selling you a guitar and teaching you to play.
Our specialty is working alongside you during the training sessions & giving you encouragement and feedback as you develop your abilities. This happens as you work on projects that in turn deliver the business results your company needs.
Program & Projects
Rock Solid has created programs that get you better results faster. Our proven programs give you a serious head start. They're specifically designed for different stages of business growth. Then we adapt them to meet the needs of clients.
The programs are packages of Directly Applied Training that have proven to work very well. Over 20 years we've collected best practices and systemized our business coaching services. If it consistently delivered results, it was integrated into our programs. We continue to improve every chance we get. We are proud of our world-class programs.
It's well worth taking the time to check us out. We are #1 in B.C. when it comes to delivering results. Our training programs and business coaching services can make a solid positive impact on your company and your life. There is no risk. We offer no-obligation Discovery Sessions for owners.